EVERYTHING IS BEING SOLD INDIVIDUALLY.
SUBS $120(BOUGHT ABOUT A MONTH AGO FOR 160)
AMP $10
COPACITOR $80( BOUGHT FOR 200 A YEAR AGO) SALE IN PROGRESS....
SUB BOX $140
i am selling my custom made sub box that should fit any fox body mustang that comes with 2 12" audiobahn AW120T 500W subs :blingbling: , MTX audio road thunder amp, and Rockford Fosgate - 1-Farad Digital Capacitor.
the custom sub box was never finished due to no time. all that needs to be done is carpeting and it will look amazing. the sub box features a strong plywood base with about a 45 degree angle on either side where the subs sit and about a 35 degree angle where the amp and capacitor sit. all of the wires run through and under the box so all are hidden. the box has no leaks, and is not ported.
the subs are like i said audiobahn and are one of the best subs i have ever owned. they have a clean smooth sound to them many subs dont have. they have crome flames all along the backside by the huge magnet. i made sure to put them sticking out to show them off a little.
the capacitor makes sure you are receiving constant power to your subs to increase the clearity and sound quality of the mids and highs. also it has a digital voltometer on it that turns on with the vehicle to tell you how many volts you are running.
Although this system may seem somewhat weak it will rattle your cage. i will keep the system in my vehicle if you would like to come hear it for yourself. great system and wicked setup. the nitrous bottle does not come with purchase.
i paid 160 for both subs, paid 200 for digital capacitor, 100 for amp, dont remember how much for box but countless hours and alot of bondo. i am selling this sub box and subs for $350 i beleive it is worth every penny and so will you after you see it. here are some pics and sites to check out the stuff. CALL ME, KYLE, AT 5053197966 or PM me
here is a site for the capacitor.
http://www.rockfordfosgate.com/products/product_details.asp?cat_id=5&item_id=83331&locale=en_US
here is a site for the subs
Buy Audiobahn AW120T Excursion 12 Inch 500W RMS Subwoofer for $69.95
site for amp
MTX Road Thunder RT251D
sub box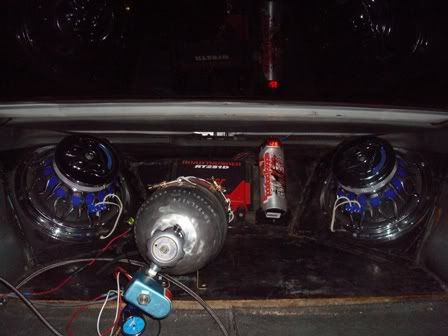 sub
digital capacitor
amp